Prairie Glass Studio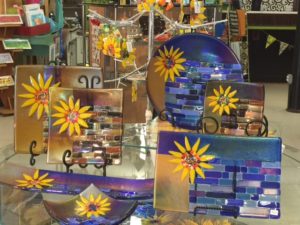 Our colorful shop is located in the garden level of the Historic Crane Building at 110 SE 8th Avenue. This Topeka landmark has showcased numerous businesses since the late 1800's. Now this enchanting building presently houses Gizmo Pictures, Juli's Coffee & Bistro and Prairie Glass Studio.
Bursting with creativity, Prairie Glass Studio offers creative gifts, home décor and one-of-a-kind jewelry. Located in the Capitol City of Kansas, we feature a Sunflower-themed glass art collection year-round.
Prairie Glass Studio is known for the perfect environment to host birthday parties, staff retreats, family gatherings, etc. or just come in with a few friends and take a class.
"I love working on projects at Prairie Glass Studio because of the atmosphere. The place itself is so fun and well lit, it instantly puts you in a good mood as soon as you walk in the door. I also like the fact that there are various approaches to working with glass. For instance, I love power tools so here at the studio, the grinder and the taurus ring-saw are my best friends (after Daisy, Mia ) However, if I'm feeling a little lazy, I can just use scraps of glass to make designs out of. There are limitless ways for everyone to enjoy making their own art piece." -Katya
"I work in the studio because it's FUN! Being creative and volunteering helping new students is rewarding. A student sees their project completed and they are so proud, many times amazed at what they have created. What could be better?" -Cathy
"I love coming in to be greeted by the dogs, Daisy and Mia. It really is a home away from home. I enjoy helping post on fb all thats going on in the studio, I just want everyone to know about Prairie Glass Studio.
It's also an awesome place to bring kids, my daughter made a science project at the studio and got an A+, has had her birthday party here and made ornaments for teachers at Christmas." -Jara
Kymm Ledbetter, Owner
Kymm comes to Kansas by way of Southern California. She's been an artist her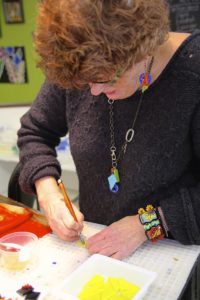 entire life. And while it's tempting to look at her experience as a student of graphic design at Pasadena Art Center as credentials for being an artist, she knows all of her education and work experience has enabled her to successfully own and operate her glass business.
Kymm left the Pasadena Art Center to live life for a while, working in sales and honing her skills in customer service at Nordstrom. After moving from California to Kansas to raise a family, Kymm returned to her artistic roots. She attended Washburn University and graduated in 2000 with a Bachelor's in Fine Arts. It was at Washburn that Kymm discovered the world of fused glass and after graduating began teaching summer art camps in her basement. As parents came to pick up their children, they also showed an interest in making art. This was the beginning of Prairie Glass Studios.
Today as the owner of Prairie Glass Studios, Kymm shares her entrepreneurial spirit and artistic talents with downtown Topeka. She hosts classes on-site and occasionally teaches at Washburn University, always challenging her students to push the boundaries of their own creativity.