We Like To Party!
Creating art is a great way to mark major life milestones.  Not only will you make memories while creating a piece of glass art, you'll have a piece of art to commemorate the occasion for years to come!
BIRTHDAYS
RETIREMENT
GRADUATION
BRIDAL  SHOWERS
HOLIDAY GATHERINGS
ORGANIZATION & CLUB MEETINGS
GIRLS NIGHT OUT
What You Can Make
Great choices for party goers are: Pendant or Magnet $18 each, Dangle Earrings or Two Pairs of Post Earrings $20 each, Light Catcher $20 each, 4″ x 4″ Coaster or Small Dish $25 each Salt and Pepper Shakers $25 each.  More information is located on the Classes Page with a pricing menu. Your guests can choose what they want to make, not everyone has to make the same thing, just let the staff know your dollar limit per person.
A $50 deposit is required at time of booking and can be made over the phone. This will be applied to your total. 
Enjoy The Party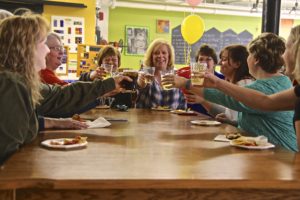 Little work on your end. We have two large tables and a long counter for treats, refreshment and drinks including a space to relax, visit, eat, open presents and enjoy your guests.   THERE'S NO CLEAN-UP FOR YOU!
Plan on kid parties lasting 1 hour and 30 minutes and adults 2 hours. (Parties lasting longer than 2 hours will have an additional fee of $25.00 per 30 minutes unless otherwise discussed). During this time you and your guests can browse the studio and get ideas of what you can make. You can enjoy your treats and open gifts, then we will teach your party goers how to cut glass and create a keepsake. You can plan on picking up your artwork in 12-14 days. Our goal is 1 teacher to every 6 students, so an accurate number count is extremely helpful
Oops! We could not locate your form.