Learning the Art
Classes for all ages
Fun and Learning Wrapped Together
Prairie Glass Studio offers classes for anyone age 6 and up. You will learn to use fusable glass to create a unique piece of art, handmade gift, or treasure to keep for years to come. First-time students choose a project that may be a picture frame, dish (large or small), ornament, jewelry, name plate, wall hanging, standing creature, coaster, decorative kitchen item . . . the list goes on and on.
More Information
Let your imagination be your guide. You can browse and enjoy the shop that is just full of ideas and finished products to inspire you before the class. Studio staff provides instruction to get you started and assists during the class. In a couple hours you learn how to cut the glass into desired shapes and glue your piece together. And that's it! Kymm and her staff take it from there. Once the glue is set, your piece will be placed in the kiln to be fused. Firing times vary from 18 to 60 hours depending on your chosen creation. You'll be contacted when your finished artwork is ready to pick up in 10-14 days.

Classes offered Daytime, Evenings, and Saturdays
Classes are set-up by appointment. We book in two hour blocks of time. We are not allowing walk-in students at this time. A $20 deposit per person is required to reserve a date/time.
Private and group classes can be arranged by reserving a time.
Please contact us or call us at 785-271-8006.
Menu of Items
$35 and Under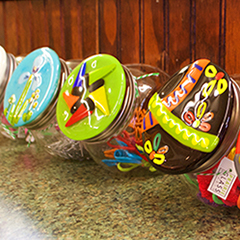 Other Items
2″ x 3″ Light Catcher on clear
$23
3″ x 4″ Light Catcher on clear
$29
Ornaments start at
$32
Small Votive 2×2
$35
Salt & Pepper
$35
Business Card Holder
$35
Bottle Opener
$29
4″ x 4″ Dish
$35
Treat / Stuff Jar
$40
Kitchenware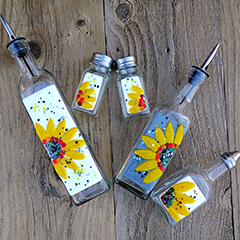 Oil Bottles
Small Oil Bottle *Currently out of stock*
$38
Medium Oil Bottle
$44
Large Oil Bottle
$51
Other Kitchen Items
Salt & Pepper Shaker
$35
Bottle Opener
$29
4″ x 4″ Spoon Rest
$35
Large Spoon Rest
$86
4″ x 4″ Coaster
$37
Napkin Holder
$80
Other Fun Projects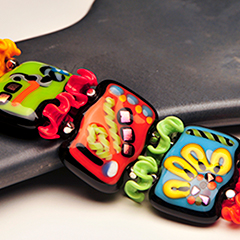 Glass Weavings
6″ Coral Bowl
$48
8″ Coral Bowl
$60
10″Coral Bowl
$72
Other Items
Name / Welcome Sign 4.5x 9
$55
Medium Votive 3×3
$46
Large Votive
$55
Create Your Own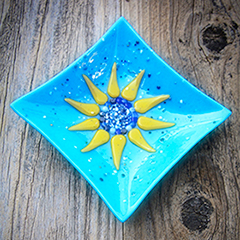 Square Bases
4″ x 4″
$35
5″ x 5″
$46
6″ x 6″
$55
8″ x 8″
$80
10″ x 10″
$138
12″ x 12″
$190
14″ x 14″
$253
18″ x 18″
$385
Rectangle Bases
4.5″x 9″
$55
4″ x 13″
$71
5.5″ x 11″
$81
4.5″ x 16.5″
$105
6.5″ x 12″
$104
7″ x 14″
$132
8.5″ x 15″
$161
14″ x 16″
$282
PRAIRIE GLASS STUDIO 506 SW 10th Avenue
Topeka, KS 66612 785.271.8006
info@prairieglassart.comPrivacy Policy
Terms of Service Monday – Friday: 10 a.m. – 4:30 p.m.
Saturday: 10 a.m. – 2:30 p.m.
Sunday: Closed
Evenings by Appointment
Site Designed and Developed by